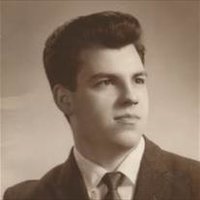 Alfonso Marchese
Mr. Alfonso Marchese, age 73, of Herkimer, passed away at the Folts Home in Herkimer on Saturday, July 22, 2017, with his loving family at his side.
He was born in San Giuseppe Jato, province of Palermo, Sicily, on November 1, 1943, a son of the late Giuseppe and Providenza (Tomassino) Marchese. Mr. Marchese was raised and educated in Sicily and Little Falls, NY where he attended local schools. At one time, Alfonso held a position as a Machine Operator with the Remington Arms Company in Ilion. Alfonso had a great love for his family; he was especially happy when everyone was together during the holidays enjoying the Italian cooking and traditions.
Surviving are a brother and a sister-in-law, Thomas and Kathleen Marchese of Herkimer; two sisters and brothers-in-law, Pietrina and Giuseppe LoRe of Frankfort, and Josephine and John LaSorsa of Fort Washington, PA; his nieces and nephews, Peter and Teresa LoRe with whom he shared a special bond with, a very loving and devoted niece Carmelina and John Cooper, Joseph and Yvonne LoRe, Enzo LoRe, Joseph and Teresa Marchese, Anne and Frank Mirabile, Rosemarie and Ralph Reid, Tammy and Ralph Franco, Roseanne LaSorsa, Vincent and Lisa LaSorsa, and Providenza LaSorsa; and a son Joseph that was always on his mind and in his heart. Also surviving are many great nieces, great nephews and cousins. He was preceded in death by a daughter, Marianne and a great nephew Frank LoRe.
Visitation will be held on Monday afternoon (Today) from 5:00-7:00 at the Petykiewicz, Iocovozzi, & Burns Funeral Home, 329 South Washington Street, Herkimer, NY 13350. Alfonso's funeral service and Celebration of Life will commence on Tuesday morning at 8:30 from the funeral home and at 9:00 at the Church of Saints Anthony and Joseph, 229 South Main Street, in Herkimer. Interment will follow in St. Mary's Cemetery in East Herkimer. Arrangements are under the direction of Alfonso's great nephew, Vincent G. Iocovozzi.
To view Alfonso's online memorial, please go to www.iocovozzifuneralhomes.com