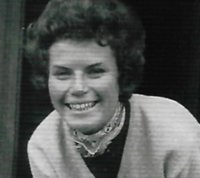 Gudrun Anna-Thea Mower
Gudrun Anna-Thea (Heins) Mower, Ph.D.
Jordanville - Mrs. Gudrun Anna-Thea (Heins) Mower passed away peacefully in her sleep after long illnesses at Mohawk Valley Health Care Center on Sunday, October 1, 2017.
She was born to Gerhart and Freda (Fredricks) Heins January 29, 1936 in Bremerhaven Germany, educated as a secretary in the Handelsschule there and worked for a representative to the Bundestag, Herbert Schneider, She met her husband-to-be, George R. Mower, whom she married in Imsum, Germany, October 7, 1957. After coming to the USA, she attended Utica School of Commerce until she started working for Mutual Boxboard Company to help support her husband, George R. Mower, in college. Upon his graduation from Utica College, they returned to Germany while her husband attended the University of Hamburg and she attended the Translator Institute in Bremerhaven for Spanish. She then worked for a coal importer in Hamburg until her husband was called back to the US because of his mother's illness. While her husband was working for a Master's Degree at Penn State, she worked as a secretary for the State College School District in State College, PA. Upon her husband taking a position at SUNY Geneseo, she started her college education, obtaining a BA in Art History at Penn State in December of 1968, after which she started graduate work in Art History at the University of Pittsburgh. That summer she completed an intensive immersion course in Italian in Milan, Italy. She had to change dissertation topics three times because her first two directors moved to other universities and she decided to stay with her husband. For her third dissertation, she had to learn Russian, which she polished off with an immersion course in Linz, Austria. Her study being interrupted for work with Mannesman-Demag, the office of which she set up in Pittsburgh, PA., she completed her Ph.D. with a dissertation on Turkish influences on 13th Century Russian Relief Sculpture in 1986, whereupon she took a teaching position at Slippery Rock University in Pennsylvania. While in school and teaching, she swam 1/2 mile every day. Other non-academic interests included biking, hiking, cross-country skiing, hunting, fishing, rock-climbing and kayaking. In 1995 she had to retire from teaching (which she loved) because of health problems which have plagued her ever since.
She is survived by her husband, George, two brothers, Gerhart Heins in Imsum, Germany, Hans-Martin Brand in Midlum, Germany, and two sisters, Freda Meyer and Martha Nolting, both of Bremehaven, Germany. Also surviving are several nieces, nephews, great-nieces, great-nephews, cousins, and in-laws; Philip and Patricia Mower of Cooperstown, John and Evelyn Mower of Schulyer, Charles and Terry Mower of Mohawk, Margaret Theuner of Frankfort, Edna and Richard Wasyleski of West Frankfort, and Patricia Fortuner of Frankfort. The family would like to acknowledge the excellent care and affection displayed by the nurses and aides of Mohawk Valley Health Care Center, Ilion, NY, throughout her long stay with them.
In keeping with Gudrun's wishes there will be no public services. Arrangements are under the direction of the V.J. Iocovozzi Funeral Home Inc., 203 Second Avenue, Frankfort, NY 13340.
Expressions of sympathy may be placed on Gudrun's online memorial page by going to www.iocovozzifuneralhomes.com