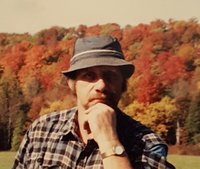 Wasyl Hula

Wasyl Hula

Richfield Springs - Mr. Wasyl Hula, 82, of 143 Burrwood Rd., passed away on Thursday, November 16, 2017- with his loving family by his side.

He was born on Thursday, January 10, 1935 in Richfield Springs, the son of the late John and Catherine Hula, and he attended Richfield Springs schools. Wasyl was married to Sandra Hula on May 8, 1971 in St. Mary's Ukrainian Orthodox Church, Herkimer. Wasyl was the owner and operator of Wasyl Hula Farms, Richfield Springs, and once employed at Remington Arms, Ilion. He was an active member of St. Mary's Ukrainian Orthodox Church, a member of the Richfield Springs Sportsmen's Club, the NRA, and former treasurer of the Ukrainian Fraternal Organization. He was also a former member of the Ukrainian National Home, NFO, and bowled on the Hula Brothers Bowling Team at Rt. 80 Bowl in VanHornesville. A fan of country music singer, Hank Williams Sr., and a multi-talented musician in his own right, Wasyl played the button accordion and violin in the Cedar Valley Band. Wasyl loved the outdoors, and taught his daughters how to shoot, reload ammunition, and hunt. He was an expert marksman and received the NYS Sharp Shooter Award. He was an organic beef farmer and loved Oliver tractors.

Wasyl is survived by his beloved wife and companion, Sandra Hula; his daughters and sons in law, Stephanie and Michael Mower of Jordanville, Natalia and Michael Rogers of Jordanville, Jenny and Brett Curry of Monson, MA, and Cristina and Matthew Peplinski of Richfield Springs; eleven grandchildren, Wasayla and her husband, Edward Oefelein, Michayla and her partner, Daniel Davis, Natasha, Evonna, Alexandria, Kalyna, John, Izaak, Lonni, Sophia and Vas; two great grandchildren, Edward and Daniel; three sisters, Anna Hula of Herkimer, Katherine Fuller of Schenectady, and Rose Shafer of Michigan; two brothers and sisters in law, Peter and Betty Hula, and Nicholas and Doris Hula, all of Richfield Springs; his in laws, Howard and Janet Archer of Auburn, Lewis and Evelyn Archer of Mohawk, George and Marcia Archer of Mohawk, Joan Archer of Herkimer, Bruce Archer of Herkimer, and Ann Hula of California; five Godchildren, Clarence Penree of Deerfield, Betty Thompson of Hartwick, David Hula of California, Steven Hula of Richfield Springs and Nicholas Hula of Richfield Springs, and several nieces, nephews, and cousins. He was predeceased by four brothers, PFC John Hula, US Army KIA Korea, George Hula, Steven Hula and Michael Hula and two sisters, Sophie Penree and Mary Hula.
Calling Hours will be held on Monday from 4:00 to 8:00 PM at Petykiewicz, Iocovozzi & Burns Funeral Home, 329 S. Washington St., Parastas will be Monday evening at the funeral home with Father Semko officiating.
Funeral services will be held on Tuesday morning at 11:00 AM at Petykiewicz, Iocovozzi & Burns Funeral Home, Herkimer, and at 11:30 St. Mary's Ukrainian Orthodox Church, with the V. Rev. Ivan Semko, officiating. Interment will be in St. Mary's Ukrainian Orthodox Cemetery.
Expressions of sympathy may be placed on Wasyl's online memorial page by going to: www.iocovozzifuneralhomes.com