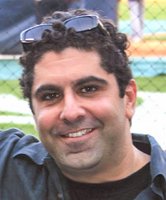 Christopher Michael Anthony Santoli
A Bon Vivant, a Renaissance Man, an Artist, a Wit, a Sage … a Joy.
His size 15 shoes will remain forever unfillable.
Christopher Michael Anthony Santoli, of Clinton, NY, has died of cancer. He was only 45. He grew up in Deerfield, NY, the younger son of the late Frank A. Santoli and Genevieve Iacovino Santoli. He attended Whitesboro Schools and excelled as a scholar, an athlete, an artist, a friend. His education continued when it was with unanimous joy that he accepted admission to Princeton University and graduated with a BA in architecture.
Chris commenced his professional career as a project manager and tenant coordinator. He worked at a multitude of high profile constructions in and near NYC, NJ, CA, but without equivocation, his favorite and most complex, most successful project was as tenant coordinator of the Time Warner Building on Columbus Circle, NYC. Chris has also been a supportive and integral part of his family's real estate development business.
Chris was an avid Yankees fan, an SU football fan and a Giants fan, and thought Ben McAdoo was a moron for benching Eli. Big third down, Chris.
Chris' wit entertained all who ever shared time with him, but he was more than that. He was genuine, loyal, caring and kind. He was generous to a fault, the consummate host. He was a painter, a sculptor and a photographer. He thought he could sing like Frank Sinatra, but he couldn't. He was a teddy bear with a contagious, often mischievous smile. He was a gentle, non- judgmental, kind and loving soul.
Chris leaves his mother, Genevieve Iacovino Santoli and his BELOVED brother, Frank and sister-in-law, Maura; and niece, Grace. He leaves many aunts, uncles and cousins and two very supportive and loyal and incredible friends, Ray Martinez and Vin Amatrudo. In 2014 he was predeceased by his father, Frank A. Santoli.
A memorial mass will be held Saturday, January 6, 2018 at 10am at St. Mary's Church in Clinton to which his family and friends are all invited.. Those so wishing to honor his memory may make a contribution to the Frank A Santoli Kindness Award, CCS Activity Fund..
In spite of the health challenge Chris battled throughout most his adult life, he managed still to live his life with an unwavering devotion and love for his family and friends, with humor, with competence, with generosity, with kindness … but most admirably he lived his life as an unparalleled example of COURAGE, RESILIENCE AND FORGIVENESS.
"Whom the gods love, die young, was said of yore."
Expressions of sympathy may be placed on Christopher's online memorial page by going to www.iocovozzifuneralhomes.com