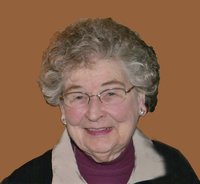 Catherine M. Caruso
Catherine M. Caruso

Frankfort - Mrs. Catherine "Kay" M. Caruso, 84, of Frankfort, passed away peacefully on Monday, December 25, 2017 at St. Luke's Hospital with her loving family by her side.

She was born in Utica on Saturday, November 11, 1933, the daughter of the late Hugh and Irene Murray. She attended Utica Schools and graduated from St. Francis De Sales School with the class of 1951. She was married to Anthony V. Caruso on October 27, 1956. They shared a blessed union for many years until Anthony's passing on September 26, 2015. Kay was employed in the Payroll Department at Stewarts Ice Cream in Saratoga for many years until her retirement in 1988. She was a communicant of Our Lady Queen of Apostles, a member of Fort Nightly, a life member of the Young at Heart Senior's, Red Hat Society and a volunteer for Catholic Charities. She loved going to the casino and playing Jumble and Quiddler. Her family loved the homemade pies she made for the holidays.

Kay is survived by one daughter and son in law, Karen and Mark Schrock of Perrysburg, OH; her beloved grandchildren, Kelsey and her husband, Josh Middleton, Drew Schrock, Zach Schrock, Carly Tashjian and Ben Tashjian; her great grandson, Reid Anthony Middleton; one brother and sister-in-law, Peter and Zos Murray of New Hartford; one sister, Irene Sbiroli of Deerfield and several nieces, nephews, cousins and friends. She was predeceased by her daughter, Dr. Patricia Tashjian on October 15, 2017.

Her funeral will be held Saturday morning at 8:45 from the V.J. Iocovozzi Funeral Home, Inc. 203 Second Ave. Frankfort, and at 9:30 in Our Lady Queen of Apostles Church where a Mass of Christian Burial will be celebrated by the Rev. Paul Catena, pastor. Interment will be in Mt. Olivet Cemetery. Calling hours will be Friday from 4–7 at the V.J. Iocovozzi Funeral Home, Inc. Members of the Young at Heart Senior Citizens will meet Friday afternoon at 4:15 at the funeral home for services.
In lieu of flowers, donations in Kay's memory may be made to the Frankfort Free Library, 123 S. Frankfort St., Frankfort, NY 13340. Envelopes will be available at the funeral home.
Kay's family would like to extend a special thank you to her nephew, Bill Richards, whose love and care were priceless and to the caring and attentive staff on the 2nd floor of Mohawk Valley Health Care Center in Ilion.
Expressions of sympathy may be placed on Catherine's online memorial page by going to www.iocovozzifuneralhomes.com