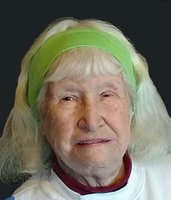 Carol J. Zaffarano
Carol J. Zaffarano

Schuyler - Carol J. Zaffarano, 88, passed away on Saturday, January 6, 2018 at St. Luke´s Memorial Hospital with her family by her side.

Carol was born on March 18, 1929 in Frankfort, the daughter of the late Clara and Chester Anderson. She attended local schools and in her later years, after her children were grown, she attended HCCC and received her degree as a Registered Nurse. Carol was married to Frank Zaffarano on June 28, 1947 in St. Mary's Church, Frankfort. Frank passed away in February of 1986. Carol was employed as an LPN at Mohawk Valley Nursing Home in Ilion for many years, until her retirement. Carol enjoyed taking care of her many flower and vegetable gardens and playing various word games with her family, reading and puzzles. She volunteered her time, driving for Catholic Charities and received many awards for her service to them, including volunteer of the year.

She will be dearly missed by her nine children and their families; Sandra Zaffarano of Schuyler, Leonard Zaffarano and his wife, Sharon of Gouvenour, Frank Zaffarano and his special friend, Jackie Rogers of Schuyler, Edna and her husband, Karl Riesel of Fayetteville, NC, Carol L. Zaffarano of Canadaiagua, Alvina and her husband, John Bord of Schuyler, Jacqueline and her husband, Steve Leve of Mohawk, Chester Zaffarano and his wife, Mina of Hoosick Falls and Marc Zaffarano and his wife, Sandi of Middleville; three sisters, Sally Hyde, Nancy Bowman and Norine Misiaszek; many grandchildren, great-grandchildren, nieces, nephews and cousins. Carol was predeceased by her husband Frank; her sister, Iris Seyb; her brother Earl Anderson and many in-laws.

Her celebration of life will be held Thursday evening at 6:00 PM in the V.J. Iocovozzi Funeral Home, Inc. 203 Second Ave. Frankfort, with the Rev. Brian Engel, officiating. Calling hours will be Thursday from 3:00 PM until the time of services in the V.J. Iocovozzi Funeral Home Inc.
Her children would like to thank the doctors and especially the staff of the third floor Allen Calder wing for their attendion and dedicated care to their mother.

In lieu of flowers, donations in Carol's memory may be made to Catholic Charities, 61 West St. Ilion, NY 13357. Envelopes will be available at the funeral home.

Expressions of sympathy may be place on Carol's online memorial page by going to www.iocovozzifuneralhomes.com