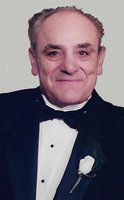 Anthony T. Bonfardeci
Anthony T. "Bonnie" Bonfardeci
Utica - Mr. Anthony T. "Bonnie" Bonfardeci, 89, of Utica, passed away, Saturday, January 13, 2018, at St. Elizabeth's Medical Center, with his children by his side.
He was born in Frankfort on June 5,1928, the son of the late John and Florence LaForte Bonfardeci. He attended Frankfort schools where he played football as a left guard, twice received the WIBX Player of the Week Award, and was a member of the Frankfort Vets Semiprofessional Football Team. As a teenager, Anthony was a track-runner for the NY Central Railroad and was credited with preventing a train derailment due to his quick response. He enlisted in the US Air Force in 1949 and was Honorably Discharged. He married Theresa Cenze in July of 1949 and from their former union, they had three children. Following his service, he was employed by Remington Rand as well as an independent contractor for the N.Y. State Thruway Authority. In 1957, Anthony opened his first gas station, Bonnie's Sinclair, in Frankfort. He went on to own and operate Bonnie's Shell Service and Bonnie's Getty Station in Ilion until 1978. Bonnie, as his customers referred to him, was well-known in the area as a skilled auto mechanic and frequently received referrals from local car dealerships. He was an excellent problem-solver and designed his own tools to help with repairs. "Dr. B", as referred to by his buddies, continued his love of auto repair into his retirement by offering his expertise to those who were still in the business. Bonnie also owned and operated the Sunrise Lounge in Schuyler. Being an avid fan of country-western music, he played the guitar and was in several local bands. He instilled his love of music to his children, and took great pride in their accomplishments. He enjoyed going to car shows, attending his grandchildren's special events, and having family dinners with his son, Anthony. Over the past several years, he was lovingly cared for by his daughter, Joanne, and looked forward to their daily outings. He will be remembered for his dedicated work ethic, physical strength and determination.
Anthony is survived by his son, Anthony Bonfardeci and his wife, Maria of Clinton; two daughters and one son-in-law, Joanne Bonfardeci of Utica, and Florence Sadler and her husband Dale of Charlottesville, VA; one sister, Frances Ciola of Utica; seven grandchildren, Matthew Sadler of Tampa, FL, Melinda Wilson and her husband Nathan of Milton, DE, Nathan Sadler of Delray Beach, FL, Tony, Francesca, Nicholas, and Thomas Bonfardeci, all of Clinton; four great-grandchildren, Hayden and Joseph Sadler, and Benjamin and Everett Wilson and sixteen nieces and nephews. He was predeceased by his former wife, Theresa Bonfardeci, and his four brothers, Antonio, Rosario, Leo, and Thomas.
The family would like to express their appreciation to the ICU physicians and nurses of the St. Elizabeth's Medical Center as well as the adult daycare staff at RCIL.
Visitation will be held on Friday, January 19th from 4:00-7:00 pm in the V.J. Iocovozzi Funeral Home, Inc., 203 Second Ave., Frankfort. His funeral will be held on Saturday morning, January 20, at 8:15 from the V.J. Iocovozzi Funeral Home, Inc. and at 9:00 am in Sts. Anthony's and Joseph's Church, 228 S. Main St., Herkimer, where a Mass of Christian Burial will be celebrated by Father Quy Vo. Interment will take place in the spring in Mt Olivet Cemetery in Frankfort.
Expressions of sympathy may be placed on Anthony's online memorial page by going to www.iocovozzifuneralhomes.com