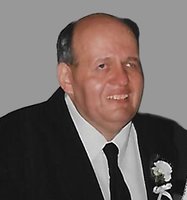 John P. Schief
Mr. John P. Schief

Frankfort – Mr. John P. Schief, 66, of Frankfort, passed away on Saturday, January 27, 2018 at his residence.

He was born on Wednesday, March 28, 1951 in Stafford, CT, the son of the late Edward and Helen Ochartic Schief. He graduated from Batavia School for the Blind and later attended Onondaga Community College. John was married to Marilyn Goss Lemont on August 28, 1999 in Salisbury Center. John was employed with Enterprise Program (vending) starting in NYC and he later transferred to PA working concession stands in various office buildings for a number of years. He worked a number of years after that for Industries for the Blind in Baltimore, MD, Greensboro, NC and Utica NY, until his retirement in 2014.
John loved the Lord Jesus Christ, he was saved and knew where he was going when his time here on earth was done. He enjoyed listening to his favorite ministry programs on TV, computer, his electric bible or bible on tape. He truly was a man who had a heart for his Lord and Savior Jesus Christ, right up to the end. John loved his family and friends getting together for special occasions or just to get together. He enjoyed going out to eat and meeting up with friends and family, trying out various new places and cuisines. He loved traveling to visit family and friends around the country and loved to collect old clocks and wind chimes, enjoying the tones and music they made. Each month he would look forward to receiving his Newsreel Magazine, a national magazine published for the blind on tape. He enjoyed listening to Old time Radio Shows on CD, radio or computer. Some of his favorite shows were Gun Smoke, The Lone Ranger, Have Gun Will Travel, The Shadow, Tales of the Texas Rangers and Six Shooter; books on tape from the CNY library system and mystery and detective stories. He followed baseball and his team was The Mets. John was very good with his mobility, with his legs getting weaker, he taught himself how to ride a scooter around town to go shopping, do his banking business through the drive-thru window and anywhere else he needed to go in town.

John is survived by his beloved wife, Marilyn Schief; two stepsons and their wives, Robert C. and Ruth Lemont, Jr. of Hartwick, SSGT Christopher F. and Susanne Lemont, US Army stationed at Ft. Stewart; his step-grandsons, Nick Hults, Christopher M. Lemont, Justin G. Lemont and Dorian Cook; his sister, Helen Gooler of NC; his in laws, Pamela R. and Jeff Talbot of Dolgeville, NY, Lee Martin Schief of FL, Charles R. Goss, Jr. and his companion, Carol Erskine of Coventry, RI, Timothy W. Goss and his companion, Donna Tisdale of Hope Valley, RI and Ronald A. and Sonya Goss of Salem, NH and several nieces, nephews and cousins. He was predeceased by his sisters, Ann Black and Janet Schief, both of GA; one brother, Walter Schief of FL; his sister in law, Charlotte Goss of Danielson, CT and his brother in law Donald Gooler of NY.

His funeral will be held Saturday afternoon at 2:00 PM in the V.J.Iocovozzi Funeral Home, Inc. 203 Second Ave., Frankfort with the Rev. Ken Allen, officiating. Spring interment will be in Glenwood Cemetery in Oneida. Calling hours will be Saturday afternoon from 1:00 PM until the time of services at the V.J. Iocovozzi Funeral Home, Inc.

John's family would like to extend their sincere appreciation to the Nurses and Staff of Hospice & Palliative Care for the kindness and compassion shown to him during his illness and passing.
Expressions of sympathy may be placed on John's online memorial page by going to www.iocovozzifuneralhomes.com