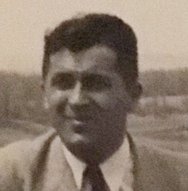 John Pesklak
Mr. John Pesklak

Herkimer – Mr. John Pesklak, 97, beloved husband of Charlotte and father of Deborah Olson, Audrey Yeomans and Edith Lee, passed away on Monday, February 5, 2018 at Mohawk Valley Health Care Center.

He was born on Wednesday, April 21, 1920 in Brooklyn, the son of the late Wasyl and Anna Steciuk Pesklak. John, his parents, his brother Steven and sister, Tonia moved to Ft. Plain in 1935 to a dairy farm. When he completed high school in Van Hornesville, he was drafted into the US Army and was a Mechanic assigned to the 462nd Army Air Force Base Unit and was Honorably Discharged on December 17, 1945 with the rank of Corporal. Following his military service, under the GI Bill, he attended Syracuse University. He later met Charlotte Oscar while working at GE in Brooklyn. John was married to Charlotte Oscar on July of 1954 in the Ukrainian Catholic Church of the Holy Ghost, Brooklyn. Besides raising his four children and renovating five homes, John was employed by General Electric, Utica, the Herkimer Hospital and later in the Maintenance Department for Folts Home, Herkimer. He was a communicant of St. Francis De Sales Church.

John is survived by his wife, Charlotte Pesklak of Herkimer; three daughters and sons in law, Deborah and Eric Olson of Cooperstown, Audrey and David Yeomans of Cazenovia and Edith and Chris Lee of Ridgefield Park, NJ; five grandchildren, Darcy Dreyer of Rochester, Anne Hanford of Brooklyn, Ingrid Olson of Chicago, Samuel Olson of Asheville, NC and Alicia Cohen of Clearwater, FL; three great grandchildren, Elena Dreyer, Sophie Dreyer and William Hanford and several nieces, nephews and cousins. He was predeceased by his son, William Charles Pesklak on May 2, 1998, his brother, Steven Pesklak and his sister, Tonia Kulawy.

His funeral will be held on Saturday, February 10th at 11:15 AM from the Petykiewicz, Iocovozzi & Burns Funeral Home 329 S. Washington St., Herkimer, NY and at 12 noon in St. Francis DeSales Church where a Mass of Christian Burial will be celebrated by the V. Rev. Mark Cunningham. Spring interment will be in St. Johnsville Cemetery. Calling hours will be held on Friday, February 9th from 5 - 8 PM at the Petykiewicz, Iocovozzi & Burns Funeral Home.
In lieu of flowers, contributions in John's memory may be made to The Michael J. Fox Foundation, P.O. Box 5014, Hagerstown, MD 21741-5014. Envelopes will be available at the funeral home.

Expressions of sympathy may be place on John's online memorial page by going to www.iocovozzifuneralhomes.com