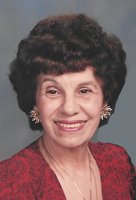 Rose Marie Varlaro
Mrs. Rose Marie Varlaro

Herkimer – Mrs. Rose Marie Varlaro, 93 years, passed away on Wednesday, February 7, 2018 in her home.

She was born on Sunday January 18, 1925 in Herkimer, the daughter of the late Alfonso and Angelina Foti Annotto and she attended Herkimer schools. Rose was married to Joseph Varlaro on June 29, 1946 in St. Anthony's Church by the Rev. Gustave Purficato. She was employed by Remington Arms and later for Gordon's Dress Factory, Herkimer.
She was a communicant of Sts. Anthony and Joseph Church and a member of the Columbiettes, Past President and member of the Tony R. George Aux., VFW Aux and the Chit Chatters of the Home Bureau.

Rose Marie is survived by her sons and daughters in law, Ret. Chief Alfonso J. and Deborah Varlaro of Herkimer, Joseph A. Varlaro and Christopher and Mary Pat Varlaro all of Grandbury, TX.; one sister in law, Frances Mariano of East Scodak; her daughter in law, Mary Ann Varlaro of CA; six grandchildren, Joseph F. and wife, May Varlaro, Tiffany S. Varlaro, AJ and his wife, Tonya Varlaro, John and his wife, BrandiVarlaro and Rose and her husband, Joshua Young; five great-grandchildren, Lorenzo, Sofia, Gabriella, AJ III and Adam and several nieces, nephews and cousins.
Her funeral will be held Tuesday morning May 29, 2018 at 10:00 in Sts. Anthony and Joseph Church where a Mass of Christian Burial, S. Main St., Herkimer will be celebrated by Rev. Quy Vo. Interment will be held Wednesday at 1:00 in Calvary Cemetery, W. German St., Herkimer.
Her funeral arrangements have been entrusted to the Petykiewicz, Iocovozzi & Burns Funeral Home, Herkimer.

Expressions of sympathy may be place on Rose's online memorial page by going to www.iocovozzifuneralhomes.