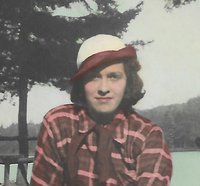 Helen Nasypany
Mrs. Helen Nasypany

E. Herkimer – Mrs. Helen Nasypany, 95, passed away peacefully on Sunday, February 11, 2018 at Valley Health Services.

She was born on August 31, 1922 in Ilion, the daughter of the late William and Hilda Squire Davis. She attended Ilion and Herkimer schools and graduated from Herkimer High School with the class of 1941. Helen was married to Peter Nasypany on April 27, 1954 in Herkimer and they shared a blessed union until Peter's death on July 15, 1994. Prior to her retirement, Helen was employed with various businesses including Kean's Drug Store, Montgomery Ward and Variety News.
Following her parents early passing, Helen was raised by her Aunt and uncle, Edna and Oscar Forester. In her youth, Helen enjoyed the outdoors, hunting and fishing with her uncle and her family especially at Rondack Lake. She was an avid reader and it was not unusual for her to read 2-3 books a day. Her greatest enjoyment was spending time with her family.
Helen was a devoted and loving wife, mother and grandmother. She is survived by her children, Sue Ward, Peter and Nadine Nasypany, Lora and Tom Pedrick, Ann and John Sullivan and Robert and Kathi Nasypany,; her grandchildren, Peter and Heather Nasypany, Jennifer and CJ Pedrick, Katrina Engell, Brett Nasypany, Brooke Nasypany, Bre Lynn Nasypany and Bobby Rice and several nieces, nephews and cousins. She was predeceased by her brother, Clifford Davis.
Per Helen's wishes, there will be no calling hours or funeral services. Interment will be in Prospect Cemetery in the spring.
The family would like to express their appreciation to the nurses and staff of Valley Health Services for the wonderful care shown to her.
Because of her love for animals, donations in Helen's memory may be made to the Herkimer County Humane Society, 514 NY-5S, Mohawk, NY 13407.
Her funeral arrangements have been entrusted to the Petykiewicz, Iocovozzi & Burns Funeral Home, Herkimer.

Expressions of sympathy may be place on Helen's online memorial page by going to www.iocovozzifuneralhomes.com