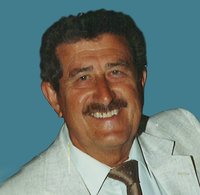 Nicholas Ciufo
Nicholas Ciufo 1927 - 2018

Utica - Mr. Nicholas Ciufo, 90, passed away unexpectedly on Tuesday, February 20, 2018 at Grand Strand Medical Center in Myrtle Beach, S.C.

Nick was born on September 26, 1927 in Utica N.Y. the son of the late Leonard and Frances Supina Ciufo. He attended Proctor High School and graduated with the class of 1947. He went on to attend Oswego State University where he received his bachelor's Degree in Industrial Arts Education in 1951. He served his country in the US Army during the Korean Conflict and was honorably discharged in July 22, 1953. He was married to Mary Therese Fitzgerald on August 7, 1954 in Oswego, N.Y. They shared a blessed union for 39 years until Therese's passing on June 1, 1993. He was employed as a Technology Teacher at Westmoreland Central School for 31 years until his retirement in 1986. He was also a golf, football, and basketball coach at Westmoreland Central School during his tenure.
Nick belonged to many clubs and had many hobbies. He was involved with several LPGA golf tournaments, was a member of the New York State Retired Teachers Association, the Westmoreland Teacher's Association, the Romeo Club, the Mohawk Valley Industrial Arts Technology Association, previously a member of The Cedar Lake Golf Club and currently a Marshall at Barker Brook Golf Club. His hobbies included golf, bowling, membership at the Fitness Mill and woodworking in his workshop.
A leader in his profession, Nick received multiple awards including the Mohawk Valley Industrial Arts Technology Association Teacher of the Year in 1985, and the New York State Technology Association Regional Teacher of the Year in 1986.
Nick is survived by one daughter and son in law, Carol and Vincent Palmieri of Whitesboro; one son and daughter in law, David and Donna Ciufo of Schuyler; his four beloved grandchildren, Scott and Sherri Ciufo, Nicole and Tyler Douglas, Michael and Alaina Palmieri ,one step-grandson Adam DeSantis; three great-grandchildren, Keira and Owen Ciufo and Silas Douglas ; one sister in law, Roberta Ciufo; Lynn Potter, mother of Scott and Nicole and his two best friends that he spent 17 years during the winter with in Myrtle Beach S.C. , Eddie Koslic and Bob Dicks. He was predeceased by his brother Joseph Ciufo and his sister Carmella Amore.

His funeral will be held Tuesday morning at 9:15 AM from Dimbleby Funeral Home, 40 Main St. Whitesboro, N.Y. and at 10:00 A.M. in Our Lady of the Rosary, 1736 Burrstone Rd. New Hartford, NY. Calling hours will be held on Monday, February 26th from 4-7 P.M. at Dimbleby Funeral Home 40 Main St. Whitesboro N.Y. Entombment will take place in Holy Trinity Cemetery Yorkville N.Y. Funeral arrangements have been entrusted to the V.J. Iocovozzi Funeral Home, Inc. Frankfort, N.Y.

In lieu of flowers, memorial contributions can be made to Nazareth Elementary School 311 Flower City Park, Rochester, N.Y. 14615 or Sisters of St. Joseph of Rochester 150 French Rd. Rochester, N.Y. 14618.

Expressions of sympathy may be place on Nicholas' online memorial page by going to www.iocovozzifuneralhomes.com