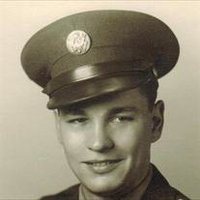 Robert J. Miers Sr.
Mr. Robert J. Miers Sr
Mohawk - Mr. Robert J. Miers Sr, 99, of 86 Walnut St passed away Sunday, July 2, 2017 in Folts Home with his family by his side.
He was a lifelong resident Mohawk, born on September 21, 1917, the son of the late Fred B. and Dora Eberlein Miers. Bob attended Mohawk schools and graduated from Mohawk High School with the class of 1936. He served with the US Army during World War II in the European Theater with the 505 Military Police Battalion A Company 1st Squad 1st Platoon. When the war was over he was reassigned to the 31st Engineer Combat Battalion in Vienna, Austria as part of the Occupation Forces and was Honorably Discharged on March 12, 1946. He was married to Marguerite Daly in Ilion on September 17, 1940. Marguerite passed away on March 15, 1978. Bob was later married to Mary Cartagirone Conklin on November 23, 1984 in Blessed Sacrament Church, Mohawk. He was one time employed by Remington Rand, Ilion. When he returned from the war he served as an apprentice with James Pendleton Lock and Key, Utica later he became a partner in Pendleton and Miers and later was the owner and operator of Miers Safe and Lock Co., Utica for 37 years until his retirement in 1985. He was a member Mohawk American Legion Post #25, Mohawk.
Robert is survived by his wife: Mary; one son and daughter in law, Robert and Marsha Miers Jr. of Walden; two daughters and sons-in-law, Marianne and Ed Tarbell of Webster and Christine and Dan Murphy of Millers Mills; his step children, Alan and his wife, Linda Conklin of W. Winfield, Gary and his wife, Mary Louise Conklin of Mohawk and Edythe Cochren of Mt Juliette, TN; twelve grandchildren, eight great grandchildren and several nieces, nephews and cousins. He was predeceased by brother, Larry Miers
His funeral will be held Saturday afternoon at 2:00 in the Petykiewicz, Iocovozzi & Burns Funeral Home, 329 S. Washington St., Herkimer with the Rev. Justin Elwell, officiating. Interment will be in Mohawk Cemetery. Calling hours will be Saturday 12 noon to the time of service at the Petykiewicz, Iocovozzi & Burns Funeral Home. Members of the Mohawk American Legion will meet Saturday at 1:30 at the funeral home for services.
Expressions of sympathy may be placed on Robert's online memorial page by going to: www.iocovozzifuneralhomes.com