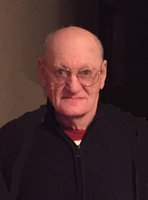 Patrick J. Doolen
Mr. Patrick J. Doolen
Frankfort - Mr. Patrick J. Doolen, 80, of 148 Widrick Rd passed away Saturday, July 1, 2017 in St. Luke's Memorial Hospital with his family by his side.
He was born in Frankfort on May 1, 1937, the son of the late David and Ida Axon Doolen and he attended Frankfort schools. He was married to Janet Heath on January 24, 1965 in West Frankfort United Methodist Church. Pat was employed as a Driver for Waste Management, Frankfort until his retirement in 1990 after 37 years of dedicated service. He was a communicant of St. Agnes Church, Utica and a member of the Teamsters Local 294. He loved going to Vernon Downs, the "Yard" and taking Jack's quarters.
Pat is survived by his beloved wife, Janet Doolen; two daughters and sons-in-law, Regina and Gary Wohan of Newport and, Sheila and Daniel Cook of Utica; one son and daughter in law, Patrick and Jodi Doolen of Frankfort; four grandchildren, Patrick Doolen, Kayla Doolen, Joseph Doolen and Emma Cook; three sisters, Isabel Esford of Lake Butler, Mary La Bumbard of Camden and Daisy Ward of Herkimer; one brother, James (Asa) Doolen of Cassville; his in laws, Joyce Doolen, Jill Doolen, Loretta Doolen, Judy Ballou, Jackie and Robert Florentino and Jennifer and Robert Wendell and several nieces, nephews and cousins.. He was predeceased by nine brothers, Owen Doolen, Willard P. Doolen, Michael Doolen, David Doolen, Morris Doolen, Edward Doolen, Harvey Doolen Bert Doolen and Albert Doolen and three sisters, Ida Merle McMeekin, Ann Genevieve Doolen and Katherine Pashley.
His funeral will be held Wednesday evening at 6:00 in the V.J. Iocovozzi Funeral Home, Inc., 203 Second Ave. Frankfort. Interment will be in Frankfort Center Cemetery.
Calling hours will be Wednesday 4-8 at the V.J. Iocovozzi Funeral Home, Inc.
Pat's family would like to express their sincere appreciation to his special niece, Kathy Fulmer for the wonderful care shown to her uncle. They would also like to thank the nurses and staff of St. Luke's Memorial Hospital sixth floor for taking such gentle care of him during his stay and passing.
Expressions of sympathy may be placed on Patrick's online memorial page by going to: www.iocovozzifuneralhomes.com