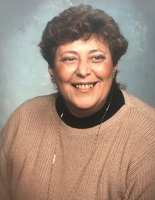 Lena Lynch
LENA LYNCH
Lena Lynch, 91, formerly of Ilion, passed away on September 25th, 2019 at home in Houston, Texas. She was born on May 10, 1928 in Ilion, New York to Calogero and Clara DiMaggio. Lena was predeceased by husbands Sam Costanza in 1955 and Ron Lynch in 1977. Lena is survived by her daughter, Rhonda Greiner and husband Joe; son Joe Costanza and wife Brenda; grandchildren Jillian Costanza, Joey Costanza, Justin Greiner and wife Heather, and Kara Greiner; great grandchildren Camden, Levi, and Jaxson Greiner, and numerous family and friends. She was predeceased by her son, Mark in 2002, one sister, Florence and two brothers, Julio and Joseph DiMaggio.
She had a passion for her family and loved expressing her love through her exceptional cooking. She was an avid reader, sports fan, and kept up to date with current events.
Lena's family attended a memorial service on September 28, 2019 at Crowder Funeral Home, Webster, Texas. Her funeral will be held Saturday, October 26, 2019 at 10:30 am in Annunciation Church, West St., Ilion, New York where a Memorial Mass will be celebrated by the Rev. Paul Catena, pastor.
In lieu of flowers, donations can be made to the Adult Congenital Heart Association, 280 North Providence Road, Suite 6, Media, PA 19063. Envelopes will be available at the church on the day of the funeral.
Expressions of sympathy may be placed on Lena's online memorial page by going to www.iocovozzifuneralhomes.com
Her funeral arrangements have been entrusted to the V.J.Iocovozzi Funeral Home, Inc. Frankfort.