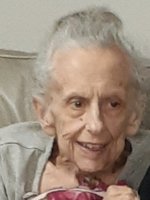 Virginia Ann Miller
Decatur ~ Virginia Ann Miller, 79, went to be with our Lord Saturday, May 23, 2020 in Decatur.
Virginia was born on April 6, 1941 to Perry and Mary Pierce in Ilion, New York. She was united in marriage to John Miller on October 15, 1960 in Wichita Falls, Texas. Virginia retired from Walmart as a cashier and was a member of St. John's Catholic Church.
She was preceded in death by her parents; and her husband John Miller.
Those left behind to cherish her memory are her daughters, Colleen Blackard and husband Chris of Fort Worth, Renee Smith and husband Greg of Denton, and Shannon Barnes and husband Rick of Little Falls, New York; her sons, Scott Miller and wife Joy of Oneida, Matthew Miller of Shreveport, Louisiana, Michael Miller of New York, and Patrick Miller and wife Shawna of Rhome; 21 grandchildren; 14 great-grandchildren; her sisters, Janet Dunn of New York, and Diane Pierce and husband Harold of Ilion, New York; her brothers, Jack Pierce of Ilion, New York, and Nick Pierce and wife Jane of Florida; numerous nieces, nephews, and a host of friends.