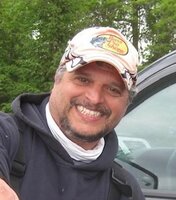 Michael S. Sgroi
Michael S. Sgroi, Sr.
Schuyler - Michael S. Sgroi, Sr., 56, of Utica passed away Wednesday, December 22, 2021 in St. Elizabeth's Medical Center with his family by his side.
He was born in Ilion, New York on April 6, 1965, the son of Michael and Carmelita Trippen Sgroi. He attended Frankfort schools and graduated from Frankfort Schuyler High School with the class of 1982. He was married to Kathy Lee on June 20, 1992 in Frankfort. Michael was employed as a Quality Control Tech for Spectrum, Utica for many years. He loved the outdoors and was an avid fisherman often teaching others the art of fishing. He was a member of Copper City Bass.
Michael is survived by his beloved wife, Kathy, his mother, Carmelita Sgroi; two sons, Gage and his wife, Erica Lawrence of Marcy and Michael Sgroi Jr. of Frankfort; one daughter, Carlee Sgroi and her fiancée, Adam Deraway of Meadow Lakes AK; one grandson, Lucas; two sisters and several aunts, uncles and cousins. He was predeceased by his father, Michael Sgroi on December 26, 1997.

His funeral will be held Wednesday evening, December 29, 2021 at 8:00 PM in the V J Iocovozzi Funeral Home, Inc., 203 Second Avenue Frankfort. Calling hours will be Wednesday, December 29 from 4:00 PM - 8:00 PM at the V.J. Iocovozzi Funeral Home Inc. 203 Second Ave., Frankfort.
Expressions of sympathy may be placed on Michael's online memorial page by going to www.iocovozzifuneralhomes.com