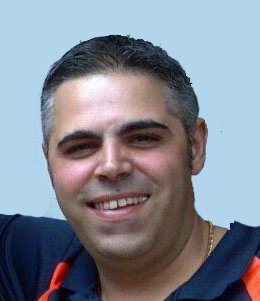 Vincenzo Casamento
1977 - 2017
Share Your Memory of
Vincenzo
Obituary of Vincenzo Casamento
Mr. Vincenzo Enzo Casamento
Utica- Mr. Vincenzo Casamento, known to family and friends as "Enzo," passed away unexpectedly on December 3, 2017, at the age of 39.
The beloved son of the late Susan (Gaffney) Casamento and Filippo Casamento, Enzo was a native of the Utica area. Enzo graduated from Whitesboro High School and attended Herkimer County Community College where he was a member of a national championship soccer team.
Enzo was employed as Vice President of Sales at Perfect Crust Pizza Liner in Minnetonka, Minnesota. Prior to that time, he worked in the family business, Casa Imports, where he developed his love of the food industry.
Enzo spent his life devoted to family and friends. On August 9, 2016, he became engaged to Cindy DiChristina, whom he loved very much. Together, they made a home and planned to spend the rest of their lives together.
Enzo was selfless in his support and care of his mother, Susan, when she fought and lost her battle with lung cancer. Whenever anyone he knew was in need, he was always there.
Enzo enjoyed traditions passed down to him from his father, such as winemaking, cooking, butchering venison and entertaining. He would do anything he could to make people feel welcome.
One of the greatest joys of Enzo's life was spoiling his nephews Anthony, Filippo and Gianni and his niece Sofia Susan. He always made himself available to play with them and shower them with presents and too much candy.
Enzo loved a good game of pitch, and looked forward to winning weekly pitch league and tournament games with his partner and sister, Nina, while treasuring time spent with his brother, Phil. He also loved Sundays where he could count on a great meal with family and suffering over a loss by his favorite football team, the New York Jets or watching an international soccer game.
Although Enzo never had children of his own, he was a parent to his beloved British bulldog, Bella, who he cherished for 14 years.
Enzo is survived by his father and stepmother, Filippo and Laura Casamento, sister and brother in law Nina and Anthony Cosamano, brother and sister in law, Philip and Jessica Casamento, stepsister Gina Marcantonio, stepbrother Brian Marcantonio, nephews Anthony Cosamano III, Filippo Cosamano, Gianni Cosamano, niece Sofia Susan, grandfather James Gaffney, fiancée Cindy DiChristina and her sons Sam and Nick Tornatore, several aunts, uncles, and cousins, as well as his dear friend Matthew DeSimone.
Enzo is predeceased by his mother Susan (Gaffney) Casamento, his maternal grandmother Alice Gaffney, his paternal grandparents, Vincenzo and Antonina Casamento, and his beloved bulldog Bella.
His funeral will be held Saturday morning at 11:00 in Our Lady of Lourdes Church where a Mass of Christian Burial will be celebrated by the Rev. Joseph Salarno, pastor. Calling hours will be Friday from 4-7 at Our Lady of Lourdes Church, 2222 Genesee St, Utica. Entombment will be in the Casamento Family Mausoleum at a later date.
In lieu of flowers, the family asks that donations be sent in Enzo's name to the Kelberman Center, 2608 Genesee Street, Utica, NY. Envelopes will be available at the church vestibule.
His funeral arrangements have been entrusted to the V.J.Iocovozzi Funeral Home, Inc., Frankfort.

Expressions of sympathy may be place on Enzo's online memorial page by going to www.iocovozzifuneralhomes.com
ABOUT US
We, at the Iocovozzi Funeral Homes, are proud to be family owned & operated.
Frankfort
203 Second Ave.
Frankfort, New York 13340
(315) 894-2211
Herkimer
329 S.Washington St.
Herkimer, New York 13350
(315) 866-0732