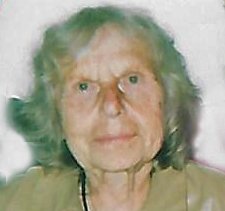 Stella Esther Golicki
1919 - 2017
Share Your Memory of
Stella
Obituary of Stella Esther Golicki
Stella E. Golicki
Herkimer, NY/Cathedral City, CA – Stella Esther Golicki, 97, was escorted by her Angels and welcomed home to the open arms of the Lord and her passed ones, Sunday, July 16, 2017 at the Majintin Ville Home in Cathedral City, California. Her journey ended on Earth, with the comfort of her caretakers at her side.
Stella was born in Middleville, NY, December 21, 1919, daughter of the late Joseph and late Mary (Przyborowski) Golicki. She was educated at Herkimer High School, SUC at Oswego, and SUNY at Albany, graduating with a master's degree in elementary education. Stella taught both junior high and elementary school levels for 48 years, primarily in the Utica City School District.
Stella dedicated the majority of her life to teaching, favoring the second grade level. Her face would light up at the sight of little children, and she loved reading, singing, and reciting rhymes to them. She was a lover of animals, especially Siamese cars, many of which she adopted and gave Russian names. She was a religious person, and was a devoted communicant of St. Joseph's Church. She was a linguist, traveler, nature lover, and enjoyed listening to Polish music. She enjoyed trips to Auriesville and other religious shrines and toured many European countries with her best friend, (the late) Frances Zuis. Stella took much pride in her heritage and proudly displayed the American flag at her residence.
Special thanks for her excellent care go to the many doctors, nurses and staff of Little Falls and St. Elizabeth's Hospitals, Folts Home, Mohawk Homestead, Alpine Rehabilitation and Nursing Facility, Majintin Ville Home, Redlands Hospice Care and Eastern Royal Transport Service. Much appreciation to cousins Donna and Joe Kaleta, and friends Marianne Frye and Carolyn Neverusky for their effort and time spent to make her comfortable.
Stella is survived by four nieces; Dolores Swietlikowski of Herkimer, Patricia (Thomas) Kelly of Williamsburg, VA, Barbara (Joseph) Guiffre of Herkimer, and Susan Leone of Maine and several cousins. She was predeceased by her father Joseph, her mother Mary, her step-father Frank Kenyon, three brothers, Julian, Zygmunt and Stephen among other relatives.
In keeping with Stella's wishes, her Celebration of Life will be held privately at the convenience of her family. Per her request, donations in her memory may be made to the Herkimer County Humane Society, 514 NY-5S, Mohawk, NY 13407.
Funeral arrangements have been entrusted to the Petykiewicz, Iocovozzi & Burns Funeral Home, 329 S. Washington St., Herkimer, NY 13350.
Expressions of sympathy may be placed on Stella's online memorial page by going to www.iocovozzifuneralhomes.com
P.S.: Aunt Stella ("Cioci Stacia"), we miss you, your heartfelt laughter, and the way your face lit up every time we visited you. The pups got so excited when you played with them! You were called AUNT STELLA by everyone who knew you. Now you are resting in peace, our "Shining Star" (meaning of Stella Esther).
ABOUT US
We, at the Iocovozzi Funeral Homes, are proud to be family owned & operated.
Frankfort
203 Second Ave.
Frankfort, New York 13340
(315) 894-2211
Herkimer
329 S.Washington St.
Herkimer, New York 13350
(315) 866-0732