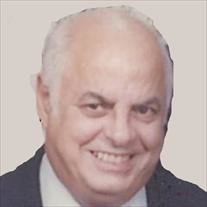 Rocco A. Carbone
1921 - 2017
Share Your Memory of
Rocco
Obituary of Rocco A. Carbone
Mr. Rocco Anthony Carbone
E. Herkimer - Mr. Rocco Anthony Carbone, 95, passed away Sunday, July 2, 2017 in St. Elizabeth's Medical Center with his family by his side.
He was born in Herkimer on November 26, 1921, the son of the late Anthony and Mary Condello Carbone. Rocco attended Herkimer Schools and graduated from Herkimer High School with the Class of 1940. He served with the US Marine Corps during World War II in the Pacific Theater and was Honorably Discharged on July 21, 1943 following injuries received on Guadalcanal and the Solomon Islands. Following his Military Service he attended and graduated from Canton Ag & Tech in 1948 with a degree in Electrical Engineering. He was married to M. Betty Benson on July 3, 1962 in Herkimer. Betty passed away on July 19, 2015. Rocco was employed as an Electrical Engineer for G E, Utica until his retirement on January 1, 1987. He was a member of D.A.V. Stars & Stripes Chapter 82, Utica, Lie member of the Veterans of Foreign Wars Post #4915, Herkimer Life member of the Elks BPOE Lodge #1439, Herkimer and the Tony R. George Post #6, Herkimer.
Rocco played softball and baseball most of his life until he was 50 years old. He also loved to bowl for many years and had one of the valley's top averages. He also enjoyed golfing especially with the Seniors League Golfers.
Rocco is survived by his devoted brother, Richard Carbone; his step son and daughter in law, Lee and Susan Bell of Daniel Island, SC; four grandchildren; one great grandchild; special nephew, Vito and his wife, Beth Carbone of Herkimer and family, his sister in law, Hope Carbone and several nieces, nephews and cousins. He was predeceased by his son, John "Jac" Carbone In 1998, three sisters, Isabell Blasting, Rose Vittore and Nancy Carbone and one brother, Salvatore Carbone.
His funeral will be held Saturday morning at 10:00 AM in Calvary Cemetery, W. German St, Herkimer with the Rev. Steven Scarcia.
Roc's family would like to extend their sincere appreciation to the nurses and staff of the ICU at ST. Elizabeth's Medical Center for the compassion shown to him during his stay and passing. They would also like to thank his caregivers, Emily, Danielle, Becky, Melissa and Ashley for the wonderful care shown to him and helping him to stay home for all that time. They would also like to extend special thanks to Krystal Carbone for being his personal barber.
His funeral arrangements have been entrusted to the Petykiewicz, Iocovozzi, & Burns Funeral Home, 329 S. Washington St. Herkimer.
Expressions of sympathy may be placed on Rocco's online memorial page by going to: www.iocovozzifuneralhomes.com
Service
JUL 8. 10:00 AM Calvary Cemetery W. German St. Herkimer, NY, US, 13350
Interment
Calvary Cemetery W. German St. Herkimer, NY, 13350
ABOUT US
We, at the Iocovozzi Funeral Homes, are proud to be family owned & operated.
Frankfort
203 Second Ave.
Frankfort, New York 13340
(315) 894-2211
Herkimer
329 S.Washington St.
Herkimer, New York 13350
(315) 866-0732