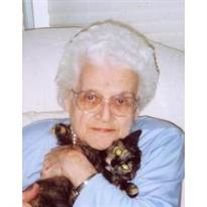 Share Your Memory of
Margaret
Obituary of Margaret W. Cognetto
Margaret W. Cognetto POUGHKEEPSIE-HERKIMER - Margaret (Margie) Cognetto, 84, of Poughkeepsie, formerly of Herkimer, NY, died at home on February 7, 2006 surrounded by her loving family. She was born on November 17, 1921 in Utica, NY to John E. Williams and Leola Baurle Williams, both of whom predeceased her. She attended local Utica schools, graduating from Utica Free Academy, where she was active in the chorus. She then attended St. Elizabeth's School of Nursing, graduating in 1943 with her Registered Nurse (RN) degree. On July 30, 1946 she married Anthony N. Cognetto at St. Francis De Sales Church in Herkimer, NY. Mr. Cognetto predeceased her in 1997. In 1957, Margaret and Anthony were blessed with the birth of their daughter, Anna Marie. Margaret always said she was "born to be a nurse". Her compassion and caring for others, coupled with her medical knowledge made her a wonderful R.N. She began her nursing career as OB supervisor at Ilion Hospital in Ilion, NY. She soon was promoted to Assistant Directress of Nursing, before becoming Directress of Nursing. She remained at Ilion Hospital for 14 years. She took time off to be a full time mother, and then returned to work at Herkimer Memorial Hospital as Head Nurse of the First Floor. She conservatively estimated that she assisted in the birth of 2000 babies during her career. When Herkimer Memorial Hospital converted to Valley Health Services Nursing Home, Margaret assisted in developing and planning various aspects of the nursing home. She continued as Head Nurse of First Floor until her retirement in 1986. Throughout her years as a nurse, she always went to work with a smile and came home with a smile. She taught her staff by example, often going out on the floor to assist patients. After her retirement, she remained active with Valley Health Services, by becoming an active member in the Valley Helpers, the volunteers of the nursing home. In her spare time, she enjoyed ceramics, reading, doing crossword puzzles and spending time with her family. She would often visit her sister, Katherine in Newton, NJ. While there, she would volunteer at the Beehive, of the Newton Memorial Hospital. In all aspects of who she was, her faith and spirituality guided her life. In 1998, she moved to Poughkeepsie, NY to be near her daughter and her daughter's family, to whom she showed incredible acceptance and support. She loved spending time with her family, especially with her two granddaughters. Both her granddaughters have been inspired to enter the medical arena as a Bachelor of Nursing and a Naturopathic Practitioner. She is survived at home by her loving daughter, Anna M. and Anna's life partner, M. Charity Gray; granddaughters, Abigail M. Springer and Jenica E. Springer; 2 grand cats, Maggie Kay and Tony Boy; her sisters, Ellen and Alice; sister-in-law, Vada ; many loving nieces, nephews, great nieces and nephews and many loving friends. She was predeceased by her husband of 50 years, Anthony N.; her siblings, Joan, Katherine, Henry "Bud" , and her grandcats, Wiccar Moonlight and Eleanor Roosevelt. The family will greet friends on Thursday, February 9th from 4pm to 7pm at Sweet's Funeral Home, Hyde Park, NY. A prayer service will take place at 6:30 pm during the calling hour with Fr. John Hunter officiating. Spring interment will be in Calvary Cemetery, Herkimer at the convenience of the family. In lieu of flowers, please send donations in Margaret' s memory to the Valley Helpers C/O Valley Health Services, 690 W. German St. Herkimer, NY. Local arrangements have been entrusted to the Petykiewicz, Iocovozzi & Burns Funeral Home, 329 S. Washington St. Herkimer, NY. The family would like to thank the staff of Vassar Brothers Medical Center, South Circle 3 for the wonderful care and compassion shown to Margaret during her illness, and to all of the staff and volunteers of Hospice, who have been more than exceptional. She was truly an angel among angels. To send a condolence or for directions, please visit www.sweetsfuneralhome.com.
To send flowers to the family or plant a tree in memory of Margaret Cognetto, please visit Tribute Store
Mass of Christian Burial
Saturday, June 10, 2006
Sts. Anthony And Joseph Church
S. Main St.
Herkimer, New York, United States
Interment at: Calvary Cemetery
Saturday, June 10, 2006
Calvary Cemetery
German St
Herkimer, New York, United States
ABOUT US
We, at the Iocovozzi Funeral Homes, are proud to be family owned & operated.
Frankfort
203 Second Ave.
Frankfort, New York 13340
(315) 894-2211
Herkimer
329 S.Washington St.
Herkimer, New York 13350
(315) 866-0732